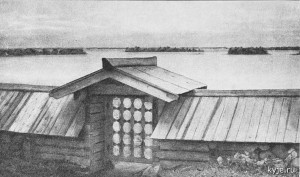 Photo by A. Smirnov
The Kyje State Historical and Architectural Museum — Fence and Gate (restored in 1957—1959).
Staatliches Museum für die Geschichte der Außenarchitektur Kishi. Teilstück einer Einzäunung mit Pforte. Restauriert 1957—1959.
Valtion rakennustaiteellinen museo Kižissä. Osa aitaa ja portti. Entistetty 1957—59.
Musée historique et architectural d'Etat à Kiji. Une partie de l'enceinte et la porte. Reconstruite en 1957—1959.
Эта страница доступна на Русском языке.
---
---