Milealojus Konstantinas Ciurlionis (1875—1911), the Lithuanian composer, a graduate from the Warsaw and Leipzig conservatoires, the author of symphonic, chamber and choral music, began to study painting intensively in the late twenties of his age and devoted the largest part of his energies to this sphere of creation, in six years.
Maturing rapidly as artist, he painted several hundreds of pictures. At present almost the entire heritage of M. K. Ciurlionis is localized in the Kaunas Art museum named after the artist.
The folder of 12 postcards represents only partly Ciurlionis's artistic development and the themes of his works. In the beginning the artist used to create fantastic landscapes (from the cycle "The Funeral", "Stillness"); they convey, in the first place, philosophical or psychological ideas, as "The Truth" and "Friendship". In "The Forest" and in "Silence" the artist reached a deep symbolic and lyrical generalization with the sparing means of expression.
Harmonic composition of "Spring" and "The Crosses of Zemaitija", painted in a landscape manner, are dedicated to the theme of nature. In both of the pictures the contrast between the man's buildings and the fragile vegetation gets a symbolic meaning. Poetical and fantastical interpretation of nature interweaves in the creation of Ciurlionis with folkloristic and mythological themes, with the cosmic perception of human existence (triptych "A Fairy Tale", "Signs of Zodiac", "Fairy Tale of Kings").
The aims of Ciuriionis's "musical painting" are reflected partly in the structure of the picture "Rex". A peculiar spiritual harmony, a concord between the cosmic greatness and gentle lyricism specify the paintings created during his last years of life— "Fairy-tale of Castle", "The Offering" and "The Graveyards in Zemaitija".
Such is the painter Ciurlionis who succeeded in a short time to utter his own word and left a heritage of art full of original conceptions and noble expression.
Full size postcards you can view on this url.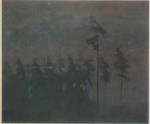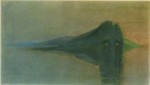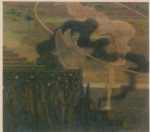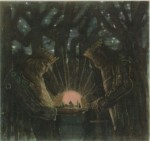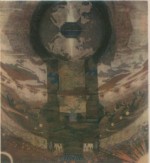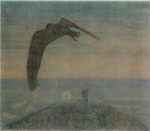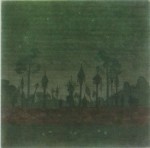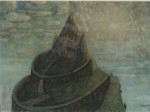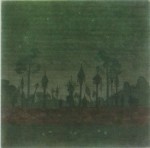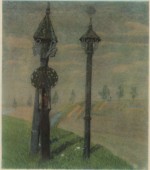 Vytautas Landsbergis
---
---