If Saint-Petersburg is known as the City of Bridges, there is every reason for the name, for sixty-eight rivers, canals and creeks criss-cross it in all directions, cutting it up into forty-two islands, large and small.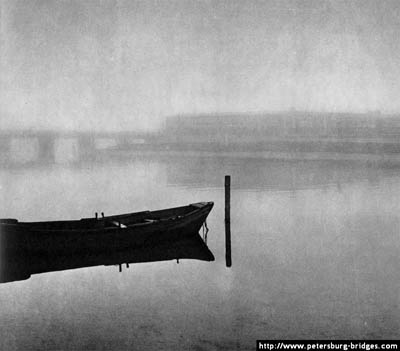 Here, in the delta where the Neva spills its waters into the Gulf of Finland, Peter I resolved to found a new city, the first Russian port on the shores of the Baltic, which would provide Russian shipping with access to Western Europe and the Seven Seas. Before construction could begin it was necessary to drain the marshy shores of the delta, which barely rose above sea level; and a network of canals was dug for the purpose. These canals, together with the Neva's natural branches and channels, such as the Fontanka, Moika, Bolshaya Nevka and others, turned the town of St. Petersburg into a northern version of Venice. Its system of waterways served as an auxiliary transport network, carrying a heavy traffic of passenger boats and barges laden with all the goods that the rapidly growing capital of Russia needed.
Later, in the nineteenth century, some of the canals were filled up or channelled into underground pipes and paved over. But most remained, including, among others, the Griboyedov, Kriukov, Swan, Winter and Obvodny canals.
In St. Petersburg proper, not counting the suburbs, there are nearly three hundred bridges today, railway bridges and overpasses excluded. Some thirty are in the custody of the State as architectural monuments. Among these are the monumental eighteenth century stone bridges with their romantic towers, the graceful arch and suspension bridges of the first three decades of the nineteenth century, and the Anichkov Bridge with its famous sculptures. As for the city's modern bridges, many are outstanding specimens of engineering and architecture; they are for the most part constructed of steel and reinforced concrete, and are notable for their graceful lines and their original and bold design.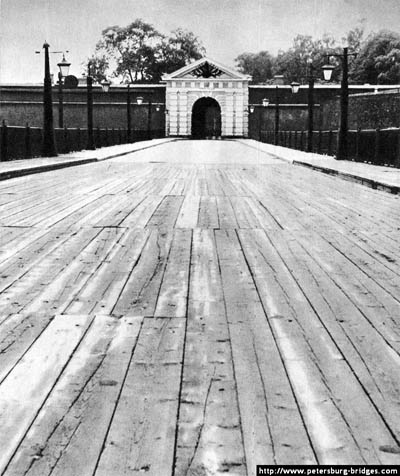 Saint-Petersburg's bridges are an integral part of its panorama. It is impossible to imagine St. Petersburg without its bridges: one might just as well try to visualize New York without its skyscrapers or Egypt without its pyramids.
An on-line compilation of a photographic study of the bridges in Leningrad (the former name of Saint Petersburg), published by Aurora Art Publishers, Leningrad, 1975.
Эта страница доступна на Русском языке.
---
---