How to remove pedestrians and cars: very simply – it is necessary to make on some series of frames with bracketing, and then in files with identical luminance to cut out from everyone sites where there are no pedestrians and cars (the similar principle is used at splice of panoramas).
How to struggle with foliage: In any way – doubled leaves prevent poorly. If a wind strong shooting is better for postponing – the doubled branches are looked where worse doubled leaves.
If there is no mount: Badly, but to live it is possible – then it is necessary to combine manually layers in PhotoShop (as it to do – below).
Sensitivity: Also it is necessary to be convinced, that the camera of a mode of the minimal possible sensitivity – for example, on DSLR Canon EOS 300D at sensitivity ISO 400 instead of ISO 100 there are very serious problems with noise. And on Canon PowerShot G3 on ISO400 to collect a normal picture it is already unreal.
RAW or JPG: By and large not essentially, but in RAW it is possible to operate parameter "Shadows" which will allow to show little bit more information in shadows. Do not forget to choose only in all frames identical options of a white balance, sharpness, etc. Option of the converter can differ only in parameter – an exposition.
Examples of the received images on Canon EOS 300D kit in JPG on the average the size, intentionally at ISO-400:
The size 1024х1536 and format JPG are chosen with that intention that in article to place both originals and intermediate results. If eats an opportunity, it is better to remove in RAW and at converting to keep as TIFF 16 bit or as a last resort as JPG with the minimal compression.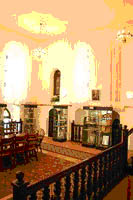 1024×1536 304kB
1024х1536 295kB
1024×1536 236kB
That is the best in the resulted three pictures:
On the most light it is remarkable a handrail and shadows under a table are worked. Thus windows were absolutely lost. Also the common tone of the image is good.
In an average picture details of an interior and a curtain on walls are good. Details in shadows were already lost, and stained-glass windows at windows still too light.
The most dark frame is good stained-glass windows and lusters. All rest is has left in black.
At pasting these images it would be desirable to take the most light frame for a basis, but thus to sate with its details in светах and to work details of lusters..
---
---